Batman VS Superman!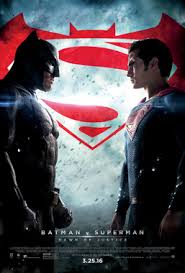 Hang on for a minute...we're trying to find some more stories you might like.
March 25th, 2016. It was the movie we had all been waiting for. Marvel had successfully created a unified story, a contained cinematic universe full of our favorite comic book heroes, and studios and fans alike had been reaping the rewards since 2008. And most recently, DC comics along with Warner Bros. studios felt that it was their time to step into the ring with Marvel, and create their own cinematic universe. It was what comic book fans had always wished for. To see the likes of Superman, Batman, Wonder Woman, and many others all sharing space on the silver screen. And on March 25th, we caught a glimpse into the new, exciting universe. However, I was not happy with what I have seen.  
Our story opens with a fresh, new look into superhero movies; repercussions. Responsibility for actions. Following Zack Snyder's Man of Steel, and it's wanton destruction in it's third act, the sequel, Batman v. Superman: Dawn of Justice opened with what really happens when a superhero saves a city from an overwhelming threat; people die, and massive damages are inflicted. The world is divided on their opinions of Superman, and throughout most of the movie, the theme follows. Can Superman be held responsible for the destruction and death subjected to Metropolis? Well, one character certainly thinks so; Batman. Bruce Wayne was present in Metropolis the day Superman prevented the alien warlord General Zod from destroying Metropolis, and he watched as his financial office building crumbled, with hundreds of his employees still inside. Batman believes Superman to be a threat, and spends the next year preparing for the day that he will have to take Superman down. And through a series of shadowy events, budding business mogul Lex Luthor pits the two heroes against each other in the "greatest gladiator match in the history of the world." After intense fights, Batman and Superman realize that Luthor has created a much greater threat. And with the help of the mysterious character known as Diana Prince, or the mythical Wonder Woman, the beginning of a fantastic team begins to form.
How could a movie like this fail? It promises stunning action, intense, multi-sided characters, hard pressing issues of morality and responsibility, and the formation of a whole string of movies, and one of the greatest teams of heroes ever written. How could this movie be anything other than a theatrical masterpiece? Well, a subpar, cluttered script, and out of place characterization are the two main culprits for Batman v. Superman: Dawn of Justice's failure.
One of my biggest gripes with this movie was the script. With a main character, an antagonist who switches sides, two primary antagonists, a third mysterious character, cameos from three other heroes, a plethora of supporting roles, and three of the most major and expansive comic book storylines in the history of the business; this movie had to juggle a lot. And unfortunately, Zack Snyder did not, and maybe could not have handled it. Too much time was spent on the origin of Batman, a story all of us know by now, and not nearly enough time was spent on Wonder Woman. I, like a lot of comic book fans, was itching to see Wonder Woman finally debut on the big screen. As a third of DC's "trinity", Wonder Woman, and many other female superheroes have been woefully underrepresented in comic book films today. And now that she's made an appearance in Batman v. Superman, I can't help but feel cheated. For such an interesting character, with rich, mythological backstory and plenty of action packed, fun storylines, Wonder Woman gets maybe five lines, and fifteen minutes screen time in the entirety of the film.
And it wasn't just underrepresentation or overrepresentation that irritated me with the script. When watching the movie, I went in expecting doom and gloom. It's what DC does best. Yet I was at times overwhelmed with the grimness to the film. So much so that it took me out of the movie any time a character made a joke. With Superman spending so much time angrily brooding, or Batman growling that there's no more good left in the world, any attempt at humor honestly felt awkward, and out of place.
And finally, by biggest issue with Batman v. Superman; the characterization. To be fair, my issue is not with the acting. Many people had qualms with Ben Affleck being cast as Batman, however I feel that he performed well. The actors performed as well as they could with the script that they were given. The script, however, wrote these characters very poorly. The thing I love about films, specifically films that adapt novels or comics, is their ability to show us something familiar, yet in a way novel and entertaining. Yet there lies an inherent issue with this idea. If you tweak a character just right, you can create a screen presence that is both familiar and interesting; a true, living comic book character. However, change a character too much, and you isolate long time fans, and potentially put off new ones. This is what Batman v. Superman did with it's characters. In the comics, villain Lex Luthor is cold, calculating, and menacing. While not much of a physical presence, his intellect and ruthlessness can make you cower, even from the page of a comic. Batman v. Superman did not give us a menacing intellect in Lex Luthor, they gave us an unhinged, bouncy, and erratic character, completely unlike any seen in the comics. Superman, normally a paradigm for hope, confidence, and faith in humanity, is reduced to a brooding, angry hero, threatening to kill the likes of Batman and Lex Luthor. And most importantly and strikingly; Batman. Prior warning, minor spoilers ahead. Now, you do not have to be a comic book buff or have seen every Batman movie ever to know; Batman has only one rule, to never willingly take a life. Batman does not kill. It is "what separates (him) from the criminals". This notion, this essence of character is trampled upon in Batman V. Superman. This Batman has no qualms about gunning criminals down from the Batmobile, or snapping necks of insurgents. Such a blatant disregard for the character's history was immediately evident, and immediately made my feelings on the film clear. When adapting a character, there are certain things you do not alter; it's how you keep a character true to any source material. Captain America fights for freedom and the American way. Superman is an alien from a dead world, launched to Earth to become a symbol for hope. Batman does not kill. So seeing my favorite childhood character violating his own defining morals so easily was a very big change, one that I and many others were not happy with. Batman v. Superman changed each character that appears in the film into a darkened, twisted version of the comic book characters we know and love. Now, I'm not saying that direct, verbatim adaptations are what we need; variety and changes is what keeps characters fresh and exciting. However a radical departure such as this is simply too much to swallow.
If I am going to speak honestly and freely about this movie, it would be the following. I wanted this movie to do well. I really did. I was so excited to see my favorite childhood heroes finally meeting on the silver screen. But from the start, I had a cold feeling that this movie would flop. Marvel had spent four years and six movies building to what DC tried to do in two. With so many characters, story arcs, and plot lines, this movie was cluttered and messy. And with a script that underperforms and is at times way too dark, this film was a let down. Twisting my favorite to dar parodies of themselves made me almost want to walk out of the theater.
I would give this movie a 3 out of 10. As a movie, it was impressive, the CG was at times too much, but the action and visuals were satisfying. But as a DC movie? As a Batman or a Superman movie? This film underperformed in several acute ways. My favorite characters are now strangers to me, and the future for DC's Cinematic Universe is dreary and bleak indeed.