Mother Mother Rocks the House of Blues
Famous Indie Rock Band a Hit in its Boston Tour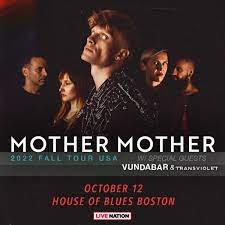 It seems as though every artist is seeking the opportunity to go on tours to perform live again. Amongst many lies Mother Mother. If you are unfamiliar with the band, this Canadian indie rock band was started in 2005 and has since risen up. Some of their songs have gained recognition on the social media platform, TikTok, over the last year including Hayloft, Burning Pile and Arms Tonite. 
Their 2022 tour was finally started, highlighting their newest album which they released last June, titled Inside. On October 12 of 2022, they performed in Boston at the House of Blues. What a night it was! 
Both the band and the audience were energized, with lots of arm waving and jumping. The band had amazing stage presence, with lively dancing and a positive atmosphere. The stage was set up nicely, with excellent lighting and sound emissions. 
Their setlist hit all of the fan favorites, even some acoustic versions. While the show was wild, that didn't stop the band from ceasing when a fan passed out. They made sure the fan was safe before continuing on with the show, leaving a genuine impression on the crowd. With all of the songs, the band managed to have seamless transitions, exciting fans and leaving the room with great anticipation. 
Their performance was one to remember and if anyone is looking for something new to listen to or a new concert date to book- definitely look into this one, as their authenticity is true.