Good Grief, South Breaks Away: PSHS performs its own Musical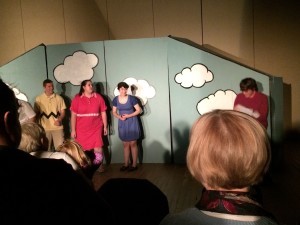 Charlie Brown, Snoopy, and the entire Peanuts Gang came alive and delighted students and parents backstage last month, as The Plymouth South Drama Club  performed You're A Good Man, Charlie Brown, based on the Comic Strip "Peanuts".
Ms. Cullen and Mr. Coon worked with the students to create a family friendly musical performance that was both entertaining and unique.
They provided lengthy rehearsals and preparation, breaking away from the usual combined North-South performances. Charlie Brown, portrayed by Tim Clark, is a lovable, gentle-hearted young boy, living his life chasing after the red-headed girl and dealing with grief from his friend and sister, Sally, portrayed by Margaret Mori.
Tim Clark saw the play as "lots of fun" where he was able to try something different. Tim loves to sing and play music, and this musical gave him the opportunity to act as well as incorporate his love for music.
The play had no defined plot. It revolves around Charlie Brown's depressed life with his friends and family. It was kid-friendly with real adult emotions. As the cast was made up of high school students, it was difficult to act like kids again where they are fighting with their siblings and breaking toys, as well as maintaining composure to be serious when needed.
The actors received tremendous support from the crowd, consisting of faculty, students, parents and siblings. Maggie Mori said, "My mom said I've been preparing for this role for 18 years", referring to her character, Sally, Charlie Brown's sassy sister.
It was evident that the cast was comfortable with their knowledge of the musical, as well as their diverse talents that they incorporated. Adriana Alvarez showcased not only her musical and acting talent, but also her jaw-dropping tap dancing abilities. Playing Snoopy, Charlie Brown's dog,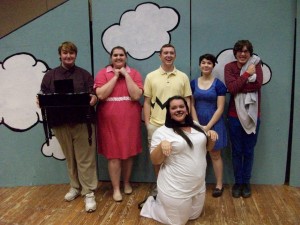 Adriana provided comedic relief to the sometimes depressing acts of the play. Jules Mascitelli portrayed Lucy, showcasing her beautiful voice in her solos as well as her reassuring interactions with Charlie Brown. Quinn Darling allowed his amazing acting talents to show through in his dramatic outbursts and singing capabilities as he played Linus.
Brian Garrard demonstrated his closeted acting and singing skills on the big stage as he interacted with the other characters and discretely played the piano.
With this wonderful performance and the support of the community, Mr. Coon has hopes to start a drama program here at South with the introduction of this play for other musical performances to come. Backstage had its challenges, as it was a "found space".
Mr. Coon is looking forward to the auditorium at the new high school with hopes to expand the drama program to showcase plays from South.
Ms. Cullen saw this play as "exciting and something new". It was a couple of years ago that the students wrote the script, and they were able to work with it and create an entertaining and fun performance. Overall, the cast supported each other and interacted incredibly well.

The talent was remarkable and the directing was well thought out. We are looking forward to the next musical, a combined North-South rendition of Rent, premiering in the Spring.