Nothing but Praise for Season 6 of Arrow
After a messy season 5, Arrow makes a come back with its action and suspensefilled latest season
What do you do after a mad man kills everyone you care about on an island that you were stranded on for five years. That's what Oliver Queen was thinking when the season 6 premiere came back last thursday night.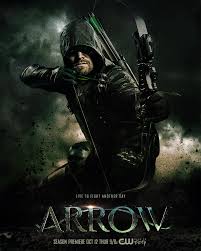 After the events of season 5 with murderer Adrian Chase aka Prometheus giving Oliver Queen aka the Green Arrow a choice whether to choose to kill Prometheus which in return would kill his friends or to let Chase live and have him kill his son. Oliver then made the choice to shoot Chase in the leg saving his son and his friends on the island.
Only Chase distracted him long enough to shoot himself which in return caused the island to blow up. The show about Oliver Queen as the Green Arrow has had a lot of ups and downs with a successful 3 seasons and the 4th and 5th seasons being a mess.
Arrow is a Action show that also goes into Drama at times. The basic idea of t
he show is how Oliver Queen can balance his life as both the Mayor of Star City and The Green Arrow, but also as a father.
The cast of the show has remained the same for 6 seasons with Stephen Amell as Oliver Queen, David Ramsey as John Diggle, Emily Bett Rickards as Felicity Smoak, Willa Holland as Thea Queen, Paul Blackthorne as Quentin Lance, Katie Cassidy as Laurel Lance, Rick Gonzalez as Rene Ramirez, and Juliana Harkavy as Dinah Drake.
The show has had a wide variety of actors and actresses who played side char
acters and villains: Manu Bennett as Slade Wilson, Josh Segarra as Adrian Chase, Dolph Lundgren as Konstantin Kovar, David Nykl as Anatoly, Chad Coleman as Tobias Church, and Neal Mcdonough as Damien Darhk.
The good thing about this season premiere is that it brought lot's of action and suspense, but also keeping people on their toes about who is alive and who isn't. With the opening sequence being amazing with the Green Arrow taking criminals down underwater to the action on the boat he is on.
The bad is that they played too much on who is alive with half of the team being alive and then a couple people actually dying on the island. They showed who was alive within the opening sequence. The acting and writing was great in this episode, however, they didn't yet show the big bad of the season like The Flash did at the end of the episode. The music and atmosphere were terrific. All in all I would give the episode a 5 stars out of 5.