South Park: The Fractured But Whole Review
The long awaited South Park video game has recently come out and is a sequel to a previous game, South Park The Stick Of Truth. This video game has been hyped up to be far better than the first one. The creators Trey Parker and Matt Stone even say themselves that the game is superior to the first one.
The creators say the first game wasn't the best because they didn't know what they were doing. But now that they have experience in the video game field after their last venture they are more confident in this game being a hit. The listened to the critics and the fans and have supposedly developed a hilarious, yet thrilling game.
The game picks up where the first game left off. Many people were happy to hear this considering it is also completely different as the creators claim. The game is currently out and many fans of the series and critics say it's great. IGN gave the game a score of 8.5 out of 10 which is rather successful. They even go on to say it's the funniest RPG in the last three years since the first game came out.
People who have played the game find it hilarious and enjoyable. The game mechanics are even said to be better than the first which was a frequent complaint among players. It is more user friendly and has barely any glitches. This game is a must have for people who are looking for a fun video game that will give them a good laugh. It's sense of humor is very crude but not overly repulsive.
South Park is known for being offensive, dirty, crude, racist, sexist and many other things but they still manage to pull all of this together in an innocent way which isn't terribly offensive. People have said it blends all of theses things together in a way that you can't help but laugh. They aren't trying to hurt people with their racist jokes or sexist comments but they still want people to be a little offended in order to get the joke.
This is what sets South Park The Fractured But Whole apart from other RPG's. There is a perfect blend of adventure and humor which people find entertaining. Which is good considering that is the whole point of videogames. It is a video game not designed to be extremely hard or challenging but it still has it's obstacles and puzzles to solve that can captivate the player without being aggravatingly hard. It's a game that is simple and fun which is what a video game should really be all about.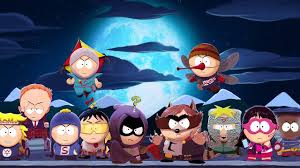 If you are a fan of the show then you should definitely buy this game as soon as possible. And if you didn't play the first game of the series then you will be given the first copy for free with purchase of the second game. It is a game that all die hard fans of South Park should have and that it's list of characters are all fan favorites.
Many familiar faces from the first game are in the video game and almost all of the characters from the show are in the game. This is a video game made specifically to be better than the first which most video games struggle to accomplish. This is a highly anticipated and exilant video game any gamer must add to their collection.