A Subject Not Taught In Classrooms: To Live and Learn
The waiter at the restaurant approached the table and inquired, "What can I get you to drink?" Monica Dias then responded with, "Tendré agua por favor." Having recently returned to America from her trip to Spain, Dias was still accustomed to speaking Spanish. Accidents are occasionally ineluctable, but for someone who fluently speaks multiple languages, this mishap can puzzle others who do not fathom what she is saying. However, that is what makes such a mistake so unique. Not a large majority of people can speak multiple languages in America. According to The New York Times, only "about 20 percent of Americans speak more than one language." The fact that Dias can connect to different kinds of people causes her to have the perfect qualities for sharing her knowledge of Spanish with others.
Strenuous exertion of effort is essential for a dedicated teacher to contribute, but it is often overlooked by many outsiders looking in. Teachers cannot always unwind at home right away and close a lid on their day because they actually have further obligations to entertain after school, such as any other person would. However, the events in Dias' life has molded her into a exemplary teacher who has procured knowledge that would be useful for anyone else who desires to be in this expertise.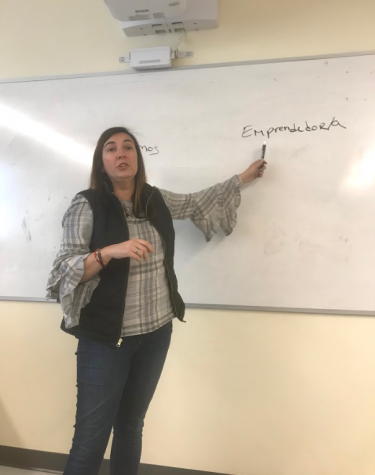 Monica Dias has resided in America since she was 11-years-old, but she grew up in Portugal for much of her childhood. She never needed any transportation in her hometown and could simply walk to any place that would pop into her mind. "It's certainly very different being in America after coming from Portugal." Every need was met no more than a few blocks away. On the other hand, there is always public transportation in America. Dias has always found pleasure in experiencing new encounters, so it was very suitable for her to also study abroad in Mexico.
Dias cherishes soaking in the thrill of inflating her knowledge of different cultures in Mexico. She adores traveling and trusts how it supports the formation of an open mind. "It doesn't matter where you go, just go in order to see the world differently". Ever since she was younger, she was always aware of how she wanted to work with people, and before she set off into actually beginning her teaching career, a mentor gave her the advice to "teach from the heart, and everything will fall into place."
A day in a teacher's life does not entail fun and games all of the time, especially while having to teach Spanish to students at the Plymouth South High School. Everyday is very hectic being constantly pulled in different directions. "I am always giving the most I can to my students". When she returns home, that does not just come to halt because she also has kids of her own to tend to.
Some days can be more difficult than others while trying to motivate students to learn, but regardless, Dias wants to impel kids through their struggles to tackle what might be unfamiliar to them. "I want kids to be confident in getting where they need to be". Her goals for them are simply to grow and progress, not only in Spanish, but also within themselves. Much like her parents, Dias endlessly strives for the best while dealing with difficult predicaments. No matter what point someone is at in their life, Dias believes that people should never compare themselves to others because each individual should have the ability to proceed at their own pace.  "I feel that learning a foreign language opens up people's minds to think outside the box and understand different cultures".
Not only is teaching Spanish to others a fitting way to utilize her knowledge, but also on Dias' days off, she lends a helping hand to those who cannot speak for themselves. On an average afternoon, Dias was at the doctor's office when a Brazilian woman, who could not speak English, was struggling to communicate to the receptionists in the waiting room. Being the compassionate person she is, Dias' translated what the woman was having difficulty saying. Dias' empathetic characteristics, inside and outside of school, causes her to consistently attempt to unleash the best qualities within her students. "The best part about being a teacher is having the influence to shape people".
Dias has overcame many barriers throughout her life, and she still is continuing to live and learn.  Much like her experience in the restaurant where she was ordering in the wrong language, there are days where one has to brush off their mistakes and simply let out a laugh. "Always keep on going through life wholeheartedly".