From Radium Girls to Chicago, Theatre Guild is Back
A look inside of PSHS Theatre Guild shows students appreciative of live performances again…
After almost two years since their last live performance, the Plymouth South High School Theatre Guild is excited to be performing again in front of "real audiences" this year.
Among the many losses due to the pandemic was the loss of live theatre: In March of 2020, schools across the nation closed down, thus prompting an abrupt end to Plymouth South's production of the musical Newsies. For many, this was their last opportunity to act in high school. "I understood why we had to do it, but it was pretty disappointing as it was my last show as a senior and had been one of my favorites for a long time," said class of 2020 senior Holly Parks.
The 2021-2022 theatre season was announced earlier in September, starting out with Radium Girls. This winter, they will be performing two student-directed one-act performances. Then, they will dazzle audiences in the spring of 2022 with the musical Chicago.
After losing a large portion of their high school performances to the pandemic, the seniors are certainly looking forward to hitting the stage this November for the first time since sophomore year.
While there will be no social distancing guidelines at these performances, measures are still being taken to ensure the safety of the actors, crew, and the audience. Everyone will be required to wear masks at all points of rehearsals and production, including the live performance.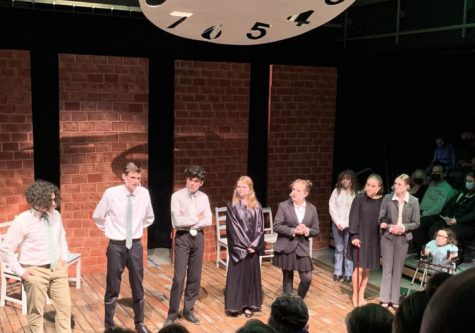 When the pandemic first began, nobody could have imagined it would take this long to return to a new normal. PSHS Choral and Theatre director Jason Luciana says that "it's exciting to see the buzz among students and watch them start to put together a full season of live theatre."
This time away from theatre has made students even more eager to return to the way things used to be. "I love having the theatre community back together in a way that feels creative and connected," said senior guild President Annie Yaeger.
While actors are excited to take to the stage once again, not everything will be as it used to. "I'm really upset that the ITS competition was cancelled," said Senior Social Media Manager Ally Long, "it's sad that in a way, freshman year was my only full year of theatre."
High school theatre has proven to be about much more than just the performance. In fact, many of the actors would agree that rehearsals are often the most memorable part of the production. "I'm really excited to be back," said senior Hugo Gizzi, " It's great to hang out with my friends again after not being able to do theatre for so long."
In the 2020-2021 school year, the guild proved that the show must go on. Although their performances weren't conventional, students were able to participate in two radio plays (one of which was student directed) as well as a spring cabaret-style event.
While last year's radio plays were streamed at home, the guild hasn't had a full live audience since their February 2020 production of The Yellow Boat. Having no spectators at last year's productions was certainly tough on the actors. "There is no way to mimic the nerves and adrenaline rush with no audience," said sophomore Lucia Gizzi, "we all went too long without getting to do what we love and I am so excited to pick up where we left off."
Conveying the proper emotions and messages without any sort of visual cues proved to be a challenge. "You definitely have to pick the right content to capture an audience through audio only," said parent Paula Fasullo, who listened in on both TRAP and Help Desk last year.
The radio plays were certainly memorable, but the actors weren't able to bond in the typical way throughout those productions. Many rehearsals were virtual, and the time in person was socially distanced, they didn't have a stage to perform on, and they didn't get the satisfaction of opening to a full house at the end of the production.
While these pandemic performances were tough on everyone, many actors have grown stronger because of it. "I'm preparing myself to enter a hard industry," said senior Delia Toppa, who plans to pursue a career in acting after graduation, "I'm taking it one step at a time, but I hope to get my BFA in musical theatre."