Creativity Soars in new Creative Writing Club
There's a new space for writers to meet every Thursday
A new writing club has come to PSHS!
If you're looking for a place to relax and work on that story you've been dying to write, the creative writing club is for you!
This club takes place in room 229 on Thursdays after school, from 2:00-4:00 PM. Ms. Mullin, who teaches reading in the English Department, is the advisor of the club and English teacher Ms. Evans also visits the creative writing club to share .some of her writing and support.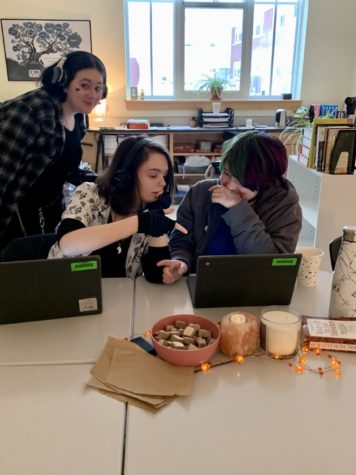 Creative writing club is a safe place for all.
If you've had a desire to write, come to this club and meet new people who will give you feedback and encouragement. All the students in this club are welcoming and will always give you constructive criticism, and the advisors Ms. Mullin and Mrs. Evans will also share their feedback.
Plus, you can't write hungry–so there are also baked goods and tea for you to snack on while you write!
Ms. Mullin is excited about the opportunities the club provides and believes that, "Everyone needs a place to write."
A student from the club, Quinn Lane, expresses his excitement about the club, "It's a very welcoming and calming area to do some writing and to get to know other people."
Creative Writing Club is one of several opportunities the school holds for writers. Writers can also participate in activities like newspaper (published online and updated regularly at PlymouthSouth.com ) and yearbook, and Ms. Evans publishes creative writing works in a literary magazine or online website
So if you're looking for a place to enhance your writing skills, start and finish a story, make new friends with similar interests, or to just try something new, come to the creative writing club! We really hope to see you there!