PSHS Graduate Becomes New York Literary Star!
Maria Baker, Editor-In-Chief, Staff Writer
April 22, 2020
Only six years post-graduation from the rickety, old Plymouth South High School with barely any windows, but with artfully decorated walls, this PSHS alumna took the world of writing, and publishing, by storm in New York. Marisa Kanter has just published her first novel, What I Like About You through Simon & Schuster in New York, and her success makes each and every Panther proud. It may seem unfathomable to think that in six short years, Kanter took the literary world by storm, but for many of you with a love of writing, it may seem like a dream made reality that all started here in Plymouth. I recently interviewed Marisa to ask her what the transition was like from our little town of Plymouth to the Big Apple, what her inspiration has been as a writer, and any advice that she may have for students in all grades: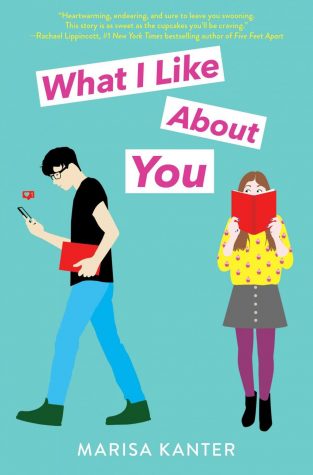 Q: What year did you graduate from Plymouth South High School? 
Marisa: 2014
Q: What are some of your favorite memories from PSHS?
Marisa: As a student at PSHS, I was very involved in student council and the drama club—so many of my favorite memories are tied into those activities! Junior year, my friends and I wrote and directed an original one-act play and that was an experience I'll never forget! Other favorite memories include a field trip to Washington D.C. in 2013 and field trips to NYC—each opportunity I had to spend time in New York growing up only confirmed how badly I wanted to move there.
Q: What was your inspiration for writing this book?
Marisa: The inspiration for What I Like About You came from my experience as a teen book blogger and my own friendships that began on the internet. Since joining online writing communities as a teenager, I have made many of my closet friends in these digital spaces. As an adult, meeting these internet friends in person has always been a wonderful and validating experience. But I wondered, how would I have reacted if I had met one of my internet friends as teen? Would I live up to my profile? I wanted to explore this tension between the personas we craft online versus who we are in real in life. This premise naturally evolved into a rom-com… and then I wrote a love triangle with two people in it!
Q: What is it like living in New York (especially in comparison to life in Plymouth!)?
Marisa: I love New York with my whole heart. I moved here in 2014 to attend NYU and living in the city, for me, is just the best experience. I love the energy, the opportunities, the diversity, the fact that in a pre-COVID world, everything was always opened. Of course, it is a scary place to be right now, with COVID and shelter-in-place—but I can't imagine living anywhere else. I also love that I don't have to drive! That's probably the biggest difference compared to Plymouth—I love my reading time on the subway that I would not get if I had to drive everywhere.
Q: What advice do you have for future graduates who plan to go to college or pursue a different path?
Marisa: It is okay to not know exactly what you want to do! It is okay if you change your mind! Post-graduation is the time to figure that out, whether you are at college or entering the workforce. When I graduated high school, I knew I wanted to work in publishing, but it wasn't until I got to college that I learned how many different roles there are within the publishing industry beyond being an editor. I currently work in a sales role, in a job that is a great fit for me, that I never imagined doing when I was at Plymouth South!
Q: What are your goals as an author going forward?
Marisa: I have a second YA rom-com publishing with Simon & Schuster in summer 2021. It hasn't been announced yet, but what I like to say is that if What I Like About You is a love letter to YA, my second book is a love letter to musical theater. Beyond that, I hope to continue to publish more books for teens and younger readers!
Q: Is there a best place for residents of Plymouth to buy the book?
Marisa: I would recommend purchasing What I Like About You through Bookshop.org, or through my local independent bookstore Books of Wonder (they ship!). Bookshop.org is an online retailer that supports independent bookstores. Due to COVID-19, bookstores across the country have been forced to close and for many, their future is uncertain, so it would mean the world to me if your purchase could also support independent bookstores!
Marisa Kanter's story is truly inspirational, especially for the passionate writers who dream of having their work published one day for the world to read. Her journey, however, is not the work of a magician, but simply the means of hard work, dedication, and perseverance. You can support this member of our community by purchasing a copy of her new novel, and hopefully, be inspired to write, yourself!