BBC For You and Me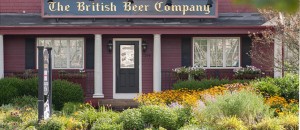 In desperate need of alleviation, after an extensive morning that consisted of taking the SAT's, my friends and I piled into my car with one thing on our minds: FOOD! We made the short trip to Cedarville to try the food at the British Beer Company. I had never heard a complaint about the BBC, and I was ready to put their good name to the test!
I got a parking spot right next to the door, so I was already pleased when I walked into the pub. Our waitress' wonderful attitude only added to the pleasurable experience. I, of course, had a difficult time deciding what to order, as I am incredibly indecisive, and there were many things on the menu that I thought I would have enjoyed. Finally, I went with the buffalo chicken tenders and sweet potato fries.
I was completely pleased with my choice! My chicken was cooked to perfection, and just spicy enough for my liking. This buffalo chicken may not seem like a big deal to you readers, but it was actually very tasty. That is a lot coming from me. I would consider myself a Buffalo Chicken Connoisseur, so I am very picky when it comes to this dish. The sweet potato fries were also top-notch, crispy on the outside and soft on the inside. Just the way I like them! The bill was affordable, and the waitress left us with a smile.
If ever you need to relax, or are just looking to experience a nice meal out of the house, try the BBC out. I would recommend it to anyone who asks.