Plymouth High Schools: Band of Gold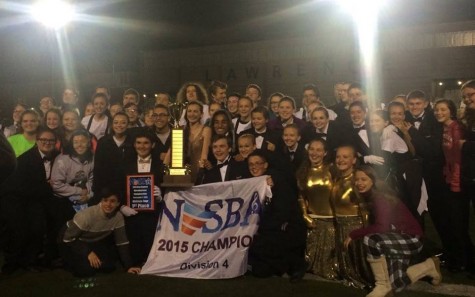 On the evening of November 1st in Lawrence, Connecticut, the only expression that matched the face of Plymouth High Schools Marching Band was glory and sheer happiness. America's Hometown marching band has been pronounced NESBA Division 4 Champions and the band program is only just getting started.
NESBA is a circuit of band competitions across New England and is widely known by many marching bands in other cities. This season, the 007 theme field show was only debuted and performed at the NESBA circuit competitions, to keep the band focused and ready for finals.
Throughout the months of August to November, the Plymouth High Schools marching band has been preparing for the NESBA Finals with their 2015 field show, '007'. Every Tuesday, Thursday and Saturday, the band practices for these shows. Such as working on drill, music and technique on the Plymouth North High football field.
The day of the finals, nervous glances and jittery band members were all around, hoping to score well and be the top band in their division. Plymouth Bands was definitely nervous as they took the field for evaluation and performed for the crowd and judges that swept the field during the show.
During the award ceremony, Plymouth Bands were hoping to at least hit a score of 90, but ended up winning higher than that, a 91.2. The announcer called our very own Plymouth Bands up as the Division Four champions and our band erupted in cheers and crying laughter . "When I first started marching band, we usually came in last; it was a victory for us to come in second to last." Veronica Holmes, senior trumpet player says. "I'm so proud of us to be able to get here."
This is the first time in Plymouth Band's history that we have won our division. So, if you see any marching band members, be sure to thank them for the hard work they have put into this season and go to the South or North football games to watch their 007 field show! "We're finally number one!" Ian Blanchard, junior trumpet remarked.

*Photo courtesy of Plymouth Bands